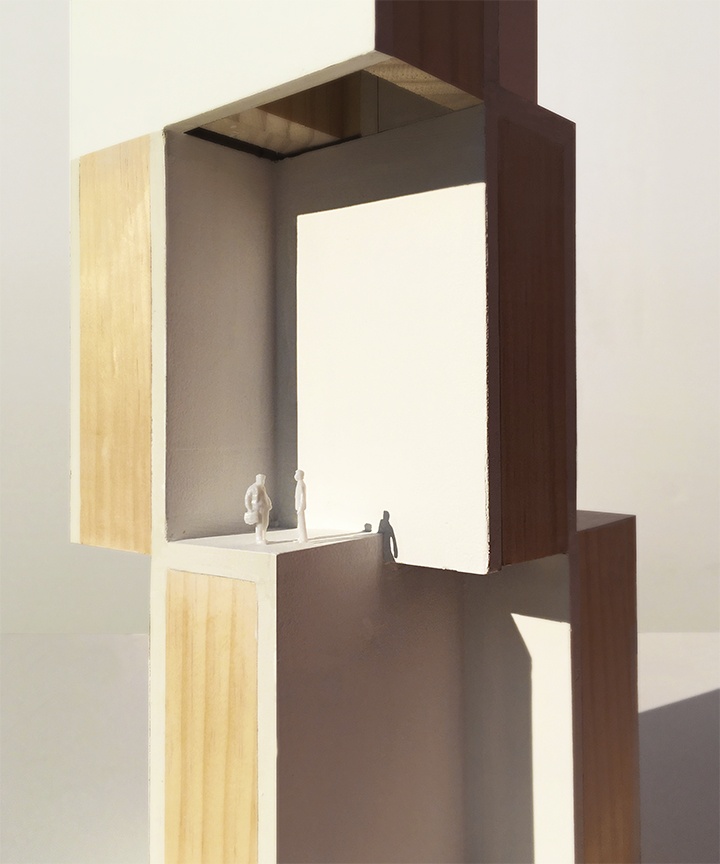 FE was invited to contribute an architectural model to the Storefront for Art and Architecture's annual model show. Our project proposes a new public icon for the Flatbush neighborhood in Brooklyn. The following text accompanied our model.
On a nice early-fall evening in Victorian Flatbush, the trees – still green – loom larger than the houses. The buildings, colorful wood framed mansions and more modestly sized homes set within landscaped lawns, are urbane if not immediately urban. It's warm, but too late in the season for the fireflies that appear in midsummer. A new building is rising at the beginning of Coney Island Avenue, near the southwest corner of Prospect Park. It's a tower of public use, a wooden wonder like the homes themselves, embodying the spirit of the Olmstead park and the oddball inclusivity of the beach with which the avenue shares its name. Programmatically the building is a little bit Kings Theater, a little bit Brooklyn College, a little bit Grand Army Plaza, a little bit Luna Park. A Plaster People's Palace: infrastructure for the dawn of whatever comes next…
As the collective understanding of the city's urbanity expands to include neighborhoods further from central Manhattan, New York needs new public icons, new public spaces, new public housing, new places to support the public lives of its residents – old and new. In the meantime the machinery of late capitalism grinds on. Escalating real estate values excuse low-quality high-density housing, making most of New York a victim of its wealthiest borough's success. In a city this old infrastructure is a maintenance burden; at one point it was an opportunity. Maybe it could be again. Not just roads and trains but, monuments to our civic selves, incubators for the city that has yet to emerge. Our icon is a New Victorian among old ones, a public building, and an instrument for ushering in a more inspiring and active corridor between the park and the sea.
***
Group Exhibition: Souvenirs, New New York Icons
Client: Storefront for Art and Architecture
Program: Tower of public uses
Dates: September 16-November 18, 2017